Should your application require more or less complex scientific notions, the developer's job can't come down to write some code anymore. He needs to fully comprehend the related problem, which subject can vary from statistical data analysis to airflow modelling or biology.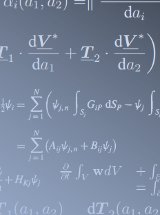 At ksytek, we use computer programming to make complex scientific and engineering problems fit into a computer. We use proven techniques to break down and simplify the mathematical problems that are involved. Our background enables us to cope with a wide range of situations in various fields.

We can develop the piece of software that exactly matches the problem you want to solve or the cases you want to study.
The benefits are multiple:
you can run as many test cases as you want
you do not have to build one (or several!) real-life models
you can get detailed information that would be very hard to obtain in real-life testing
you can easily iterate to get to an optimal solution
you can re-use the software later for different cases, with or without adjustments
Our area of expertise being relatively wide, it is unlikely that we are not able to fulfill your requirements: feel free to contact us for more details.