flight simulator, l'Hydroptère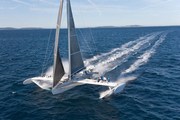 The aim was to develop a real-time simulation software for l'Hydroptère, the sailing foiler that broke the world sailing speed record on 500m in 2010 (51.36 kts). It enable the design team to change the configuration of a virtual boat and quickly test how they influenced its behaviour in different wind or sea conditions.

2008-2010, C++, taken over by Hydros
GreatEscape 25, day cruiser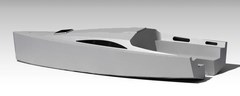 Designed in 2012 for a Kiwi rental / charter company, this twin keeler featured two lifting keels, a Bergstrom rig, a retractable outboard in a covered well, and lots of space inside as there is no mast post in the way! Finite element analysis was used to select the best structural arangement to support the mast loads.
project monitoring web-app
Planning a project is good, following the plan is better! This web application will not only enable you to estimate the time required to carry out a project, taking into account task dependencies, but also to monitor the progress in real-time, to keep a closer eye on elements that are likely to run late, but above all to allow to easily modify the schedule should a major change arise.
2012-2014, Python/Django